Introduction

Coal Fired Boiler
Certified by ASME, CE, ISO, EAC, DOSH, TUV, BUV, ensuring high quality and compliance with international standards.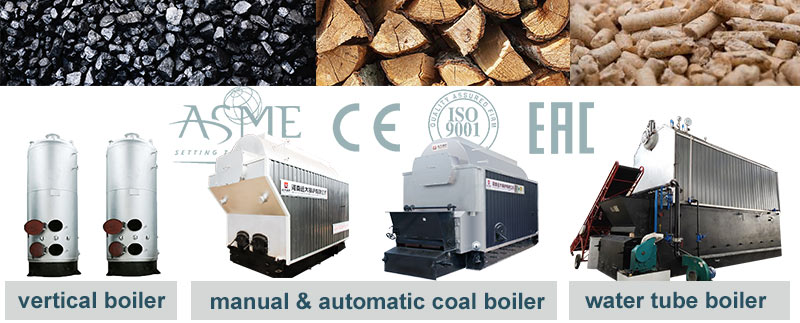 ---
Popular model: DZL coal fired boiler automatical chain grate coal boiler
DZL automatic coal boiler, with chain grate combustion device, adopt automatic coal feeding system, inner fire-tube & water-tube structure, wing-shape flue and flue gas three pass design, higher thermal efficiency than traditional manual coal boiler.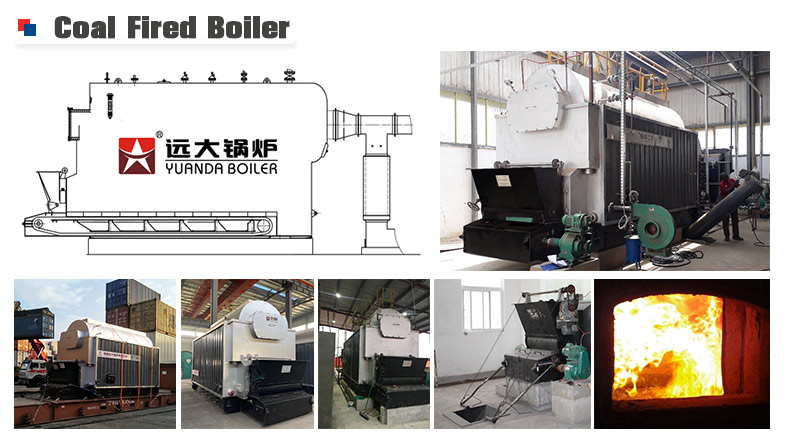 Coal Fired Boiler System
Complete boiler system need some other accessories for help boiler work successfully. Introduce some important accessories as following:
1. Water softener ②, Remove Mg+,Ca+ in the water and improve water quality, prevent hurt to boiler tube, entend the boiler using life time.
2. Economizer ⑧, use exhaust gas to heat inlet-water then reduce exhaust gas temperature, which improve boiler efficiency.
3. Dust collector ⑨, bag filter, Remove the dust and ash in exhaust gas to protect environment and reduce pollutions.
4. Forced fan & Induced fan ⑦, Blow clean air into the boiler and promote exhausted gas out, ensure the air circulation of the whole system.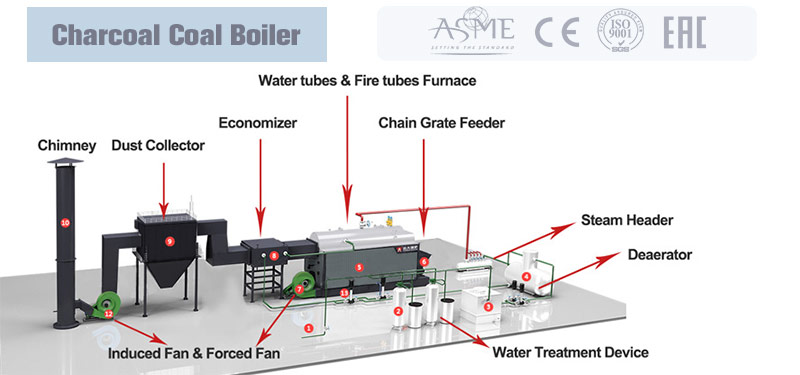 Compare Manual & Automatic Boiler
DZH series is kind of manual coal feeding boiler, DZL series is kind of automatic coal feeding boiler.
Related: Vertical Coal Boiler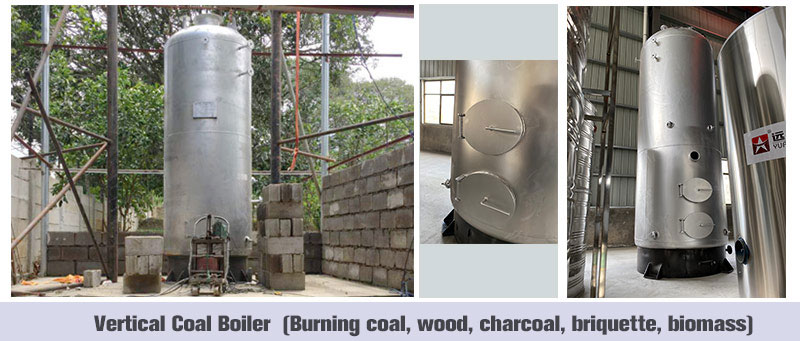 > Our Products & Global Sales
1. Steam Boiler, Hot Water Heater Boiler, Thermal Oil Heater Boiler, Steam Generator, Steam Turbine Boiler.
2. Gas Boiler, Lpg Boiler, Diesel Boiler, Heavy Oil Boiler, Dual Fuel Boiler, Waste Heat Exhaust Gas Boiler.
3. Electric Boiler, Electric Steam Generator, Electric Hot Water Boiler, Electric Thermal Oil Heater.
4. Coal Boiler, Wood Boiler, Biomass Boiler, Charcoal Boiler, Briquette Boiler, Pellets Boiler, Solid waste Boiler
5. Husk Boiler, Palm Kernel Shells Boiler, Coconuts Shells Boiler, Agro Waste Boiler, Thermal Heat & Power Boiler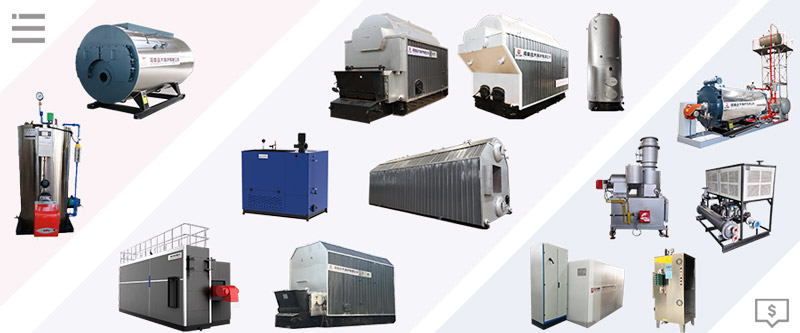 Technical Parameter

DZ Series Steam Boiler Technical Parameter Table
Model
Rated capacity(t/h)
Rated pressure (Mpa)
Rated steam temperature(℃)
feed temperature(℃)
Thermal efficiency(%)
Boiler water volume(m³)
Exhaust temperation(℃)
Fuel comsumption(Kg/h)
max transportation weigh(t)
DZH1
1
1.0/1.25/1.6
184/194/204
20/104
>82
3.15
127.25
192.32
9
DZL1
1
1.0/1.25/1.6
184/194/204
20/104
>82
3.15
113.34
190.42
13.5
DZH2
2
1.0/1.25/1.6
184/194/204
20/104
>82
4.75
126.41
386.47
15
DZL2
2
1.0/1.25/1.6
184/194/204
20/104
>82
4.77
106.34
393.77
22
DZH4
4
1.0/1.25/1.6
184/194/204
20/104
>82
7.7
137.25
782.29
18.5
DZL4
4
1.0/1.25/1.6/2.5
184/194/204/226
20/104
>82
8.2
124.49
756.89
27.6
DZH6
6
1.0/1.25/1.6/2.5
184/194/204/226
20/104
>82
7.4
146.83
1169.57
25
DZL6
6
1.0/1.25/1.6/2.5
184/194/204/226
20/104
>82
8.1
137.29
1148.68
35
DZL8
8
1.0/1.25/1.6/2.5
184/194/204/226
20/104
>82
9.6
141.06
1602.44
38
Note: Parameter is for reference only, if any changes should follow the factory technical data.
Our Supply Equipment List

Coal Feeder
Grate Speed Reducer
Slag Remover
Water Treatment Device
Water Pumps
Water Tank
Deaerator
Economizer
Forced/Induced Fan
Smoke Clean Equipment
Chimney
......
Advantage of DZL Boiler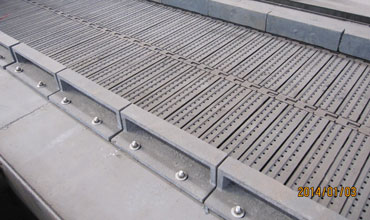 Chain grate/Reciprocating grate
Auto-feeding type burning system, avoid problem of air leakage, fuel leakage and uneven ventilation. Easier operation compared to traditional grate.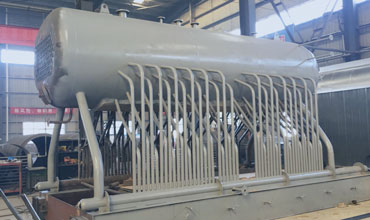 Fire tubes & Wing shape structure
Strengthening heat transfer, eliminating welding stress, enhance heat transfer bility, reduce heat stress of pipeline seam, prevent pipeline cracking.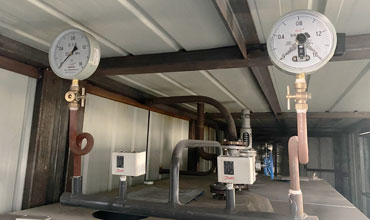 Security guaranteed & Automation
With a set of alarm,protection and security guaranteed, 100% safety. Control cabinet use siemens elements, trustable quality & control strictly
Economizer & Dust collector device
Reuse waste heat in exhaust gas, energy saving devide (economizer); Remove the dust and ash, protect envrionment and reduce pollution
FAQ of Coal Boiler

Question: Can it burn coal and wood waste together?
Answer: Yes, it can burn coal, wood waste. Besides, burn biomass, bagasse, palm shells, coconuts, husk...
Question: Do you have DZG boiler?
Answer: Yes, "DZG" mean fix grate boiler, the biggest difference with "DZL" is combustion grate device. DZL is automatic chain grate boiler, DZG is manual type fixed grate boiler. If you interest more, send message on website.
Question: How we install the boiler after buy it?
Answer: Sir, we supply whole life service for boiler, before-sale service & on-sale service & after-sale service. We have professional service team for installation and boiler commissioning and training workers.
Question: Do you have SZL double drums coal water tube boiler?
Answer: Yes, SZL series coal fired water tube boiler, suitable in capacity 10ton-50ton, if you have interest, send message to service@yuanda-boiler.com
Send Inquiry

Write your specific requirements, we aim to offer quote with 2hours.