Introduction

Electric Boiler | steam boiler & hot water boiler
WDR type electric boiler uses electric energy as energy, is horizontal type electric boiler. Boiler inner consist of stainless steel heating tube (advantages: low surface load, high thermal efficiency and long service life), each heating tube is connected by a separate small flange (which is convenient for maintenance). Boiler thermal efficiency is nearly 95%
Electric Boiler System Diagram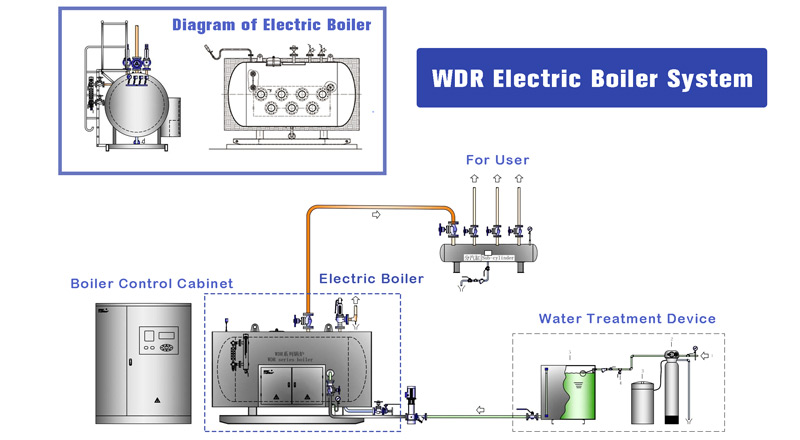 Advantages of Electric Boiler
1. Stainless steel electric heating tube, each group heating elements is connected by a centralized beam flange independently. Simple structure, high mechanical strength, safety and reliability, easy replacement.
2. Quick start-up, good steam quality, strong operating load, fast to adjust and simple to operate.
3. Automatic to adjusts heating groups according to the temperature difference and load changes, help saving energy consumption.
5. Intelligent controller & micro display screen, display equipment status, operating parameters and fault alarms.With advantages of reliable performance, high degree of automation, and convenient use.
6. Boiler insulation use 12cm aluminum silicate board, ensures the long-term energy-saving operation of the boiler. Both ends of boiler is convenient for installation and maintenance.
7. Protective function
(1) Leakage: when detects the electricity leakage, will cut off the power supply automatically.
(2) Water shortage: When short of water, cut off the power supply and issue a alarm indication.
(3) The furnace shell is overheated: the boiler immediately stops running.
(4) Abnormal power supply: the boiler immediately stops running and chain sound and light alarm.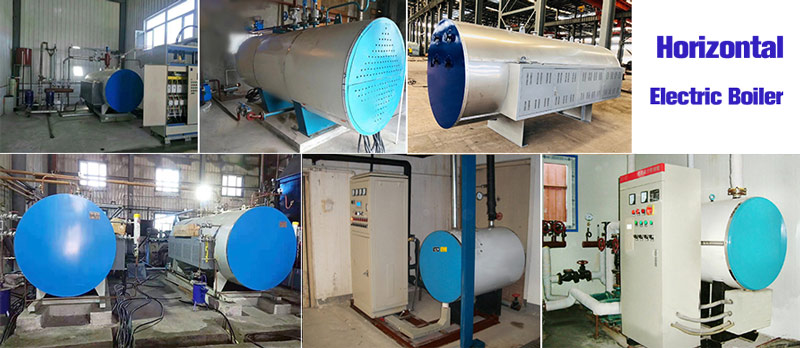 Related : Vertical Small Electric Boiler
Vertical electric steam generator boiler, with high quality materials and automatic running control system, work no pollution, high efficiency.
1. Environmentally Friendly and More Economical
2. Extremely Easy to Install and Use
3. Multiple Safety Interlock Protection
4. Use High-quality Components
5. High Quality Electricity Heat Tube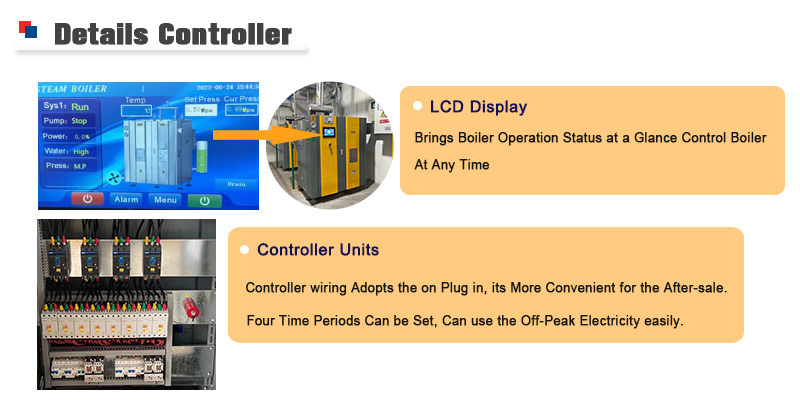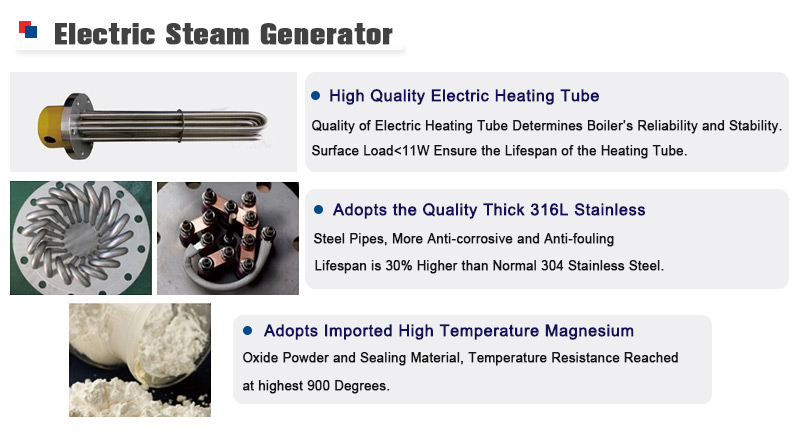 Technical Parameter

Model

Steam Capacity

t/h

Work Pressure

MPa

Steam Temperature

℃

Rated Voltage

V

Power×Group

KW×P

Inlet Diameter

DN

Outlet Diameter

DN

Safety Diameter

DN

Sewage Dalve Diameter

DN

WDR0.5
0.5
1
110°C-250°C
110/220/240/380/420
60×6
32
50
2×40
40
WDR1
1
1
60×12
40
50
2×40
40
WDR2
2
1
120×24
40
65
2×40
40
WDR3
3
1
36×60
40
80
2×50
40
WDR4
4
1.25
36×80
40
100
2×50
40
Our Supply Equipment List

Boiler proper
PLC control cabinet
Water treatment device
Bottom valves
Water pump
Valves & Instruments
Steam flow meter
Electrode sensor
Steam seperator
Safety valves
Pressure controller
......
Design Specificaions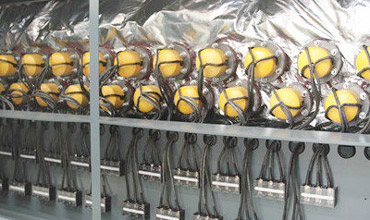 Stainless Heating Tube
High-quality stainless steel electric heating tube and independent flange connection, to ensure safety.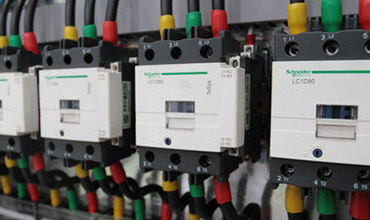 High Quality Electrical Components
All electrical components have CE and UL certification, ensure safety and service life.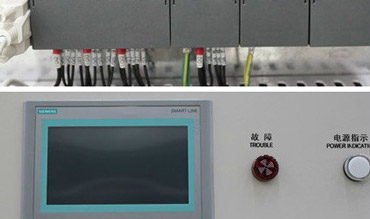 PLC control system
The SIEMENS PLC programming control display screen reflects the equipment status, operating parameters and fault alarms.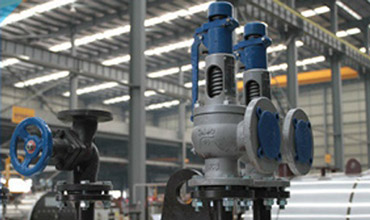 Gauges & Valves System
High-precision safety instrument valves are used for one backup and one use to ensure that the boiler is foolproof.
Electric Boiler Advantages

Automatic & Intelligient Control
Intelligient control system for boiler operation, no pollution, no noise, convenient installation, small occupation, full automatic control and high thermal efficiency.
Energy-saving Efficient Electric Boiler
Thermal efficiency up to 99%, equipped with erengy-saving device Economizer, Condenser, Steam generator, Exhaust gas boiler. Fully absorb heat of flue gas and transfer to useful energy.
High Quality & Strong Power
Design steam-water separator, reduce steam humidity and ensure steam quality. Boiler design 5-10% overload capacity, satisfy customers' demand for factory using. Enough steam output per hour.
Safety & 25+Years Lifespan
Double safety valve, double water level gauge, double pressure gauge design: backup guarantee, safe and reliable; Smoke chamber ultrasonic testing, overpressure 40-50% water pressure test,ensure the boiler quality.
Send Inquiry

Send the details of "what you need", we will give a feedback within 2 hours.