Introduction

Thermal oil heater boiler

In Vertical or Horizontal, In skid-mounted or containerised (Portable). Fuel: gas, lpg, diesel, electricity, coal, wood, biomass.
---
① Gas/Diesel Thermal Oil Boiler
Horizontal or Vertical type, Automatic thermal oil boiler with burner (brand of baltur, riello, unigas, ecoflame, oilon, etc.)
Structure: YY(Q)W thermal oil boiler adopts a horizontal chamber-fired three-coil structure, and the body is composed of an outer coil, a middle coil and an inner coil.
Whole System including oil heater boiler proper, burner, control cabinet, oil expansion tank, oil storage tank, oil circulating pumps, economizer, chimney, pipes, valves, gauges, etc.
---
② Electricity Thermal Oil Heater
The equipment Use electricity heating thermal oil, automatically heating oil up to temperature 200°C-350°C. Widely used in asphalt, bitumen, textile, plywood hot pressing, reactor, food fryer, packaging industry, refinery oil, etc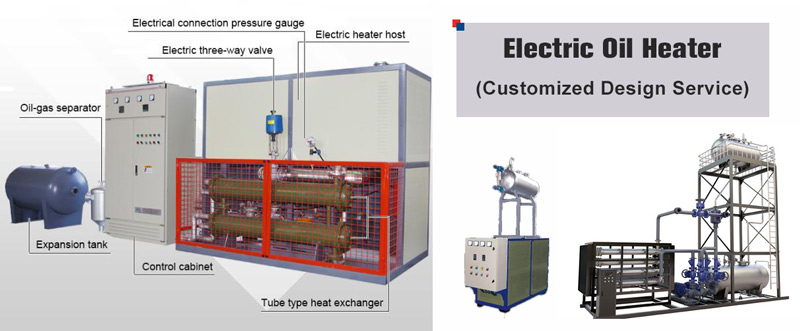 Electric heating thermal oil heater consists of the main parts (including electric heater host , high-temperature oil pump and Y-shape filter), expansion tank, control cabinet and piping. All the components of the system must work together in harmony for proper performance.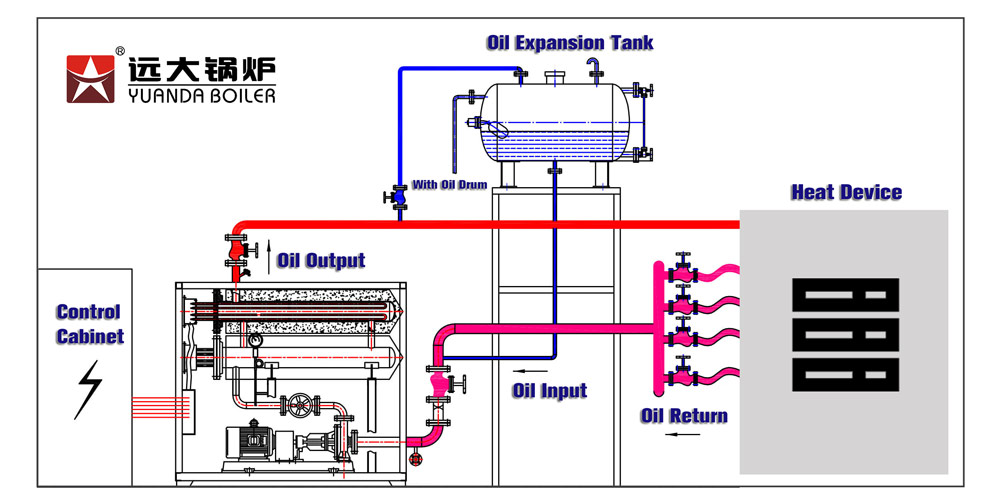 ---
③ Coal/Biomass wood thermal oil heater
Horizontal type thermal oil boiler, use chain grate for automatic feeding, high efficiency, environmental-friendly.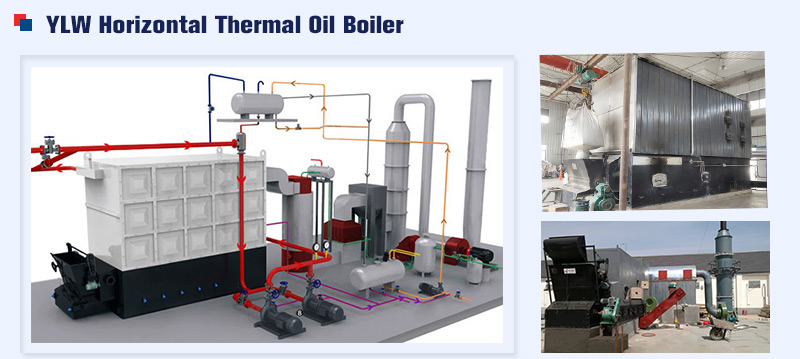 YGL series thermal oil boiler, is vertical type boiler working at low pressure, heating thermal oil temperature up to 200°C-350°C.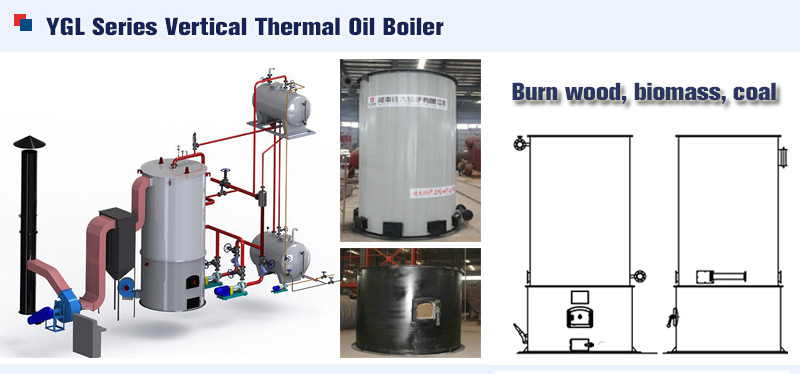 ---
Application of thermal oil boiler
1. Fuel applicable: Electric, Gas, Lpg, Diesel, Heavy Oil, Coal, Wood, Biomass, Agro Waste.
2. Application industry: Cement industry, Chemical/petrochemical industry, Polymer industry, Textile industry, Leather industry, Oil industry, Glue industry, Food processing industry, Metal industry, Tyre industry, Bitumen & Tar processing industry, Paper mills industry, Wood industry, Soap Detergent industry, Pharmaceutical industry, Paint Varnish industry Packing Packaging industry, Glass industry, Industrial Laundries. etc.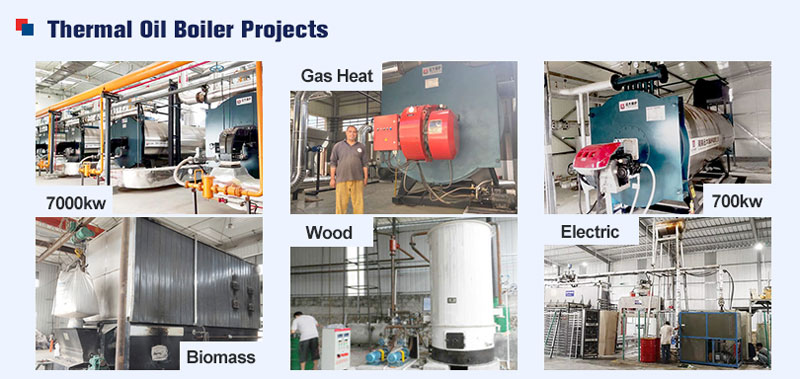 Technical Parameter

Gas/Diesel Thermal Oil Boiler Technical Parameter
Model
Rated power(KW)
Rated pressure (Mpa)
Thermal oil temperature(℃)
Thermal efficiency(%)
Fuel comsumption
max transportation weigh(t)
light diesel oil(kg/h)
natural gas(Nm³/h)
YY(Q)W-700Y(Q)
700
0.8/1.0
250-320
>96
61.3
73.6
3
YY(Q)W-1400Y(Q)
1400
0.8/1.0
250-320
>96
122.6
147.1
4
YY(Q)W-3000Y(Q)
3000
0.8/1.0
250-320
>96
249.2
296.4
10
YY(Q)W-3500Y(Q)
3500
0.8/1.0
250-320
>96
305.6
366.8
10.2
YY(Q)W-4200Y(Q)
4200
0.8/1.0
250-320
>96
367.5
436.6
16.5
YY(Q)W-5600Y(Q)
5600
0.8/1.0
250-320
>96
489.6
586.8
23.6
YY(Q)W-7000Y(Q)
7000
0.8/1.0
250-320
>96
612.3
726.9
28
Note: If need other boilers technical specifications, pls contact us directly.
Our Supply Equipment List

Boiler Body
Burner
Control Cabinet
Feed Oil Pumps
Circulating Oil Pumps
Oil Storage Tank
Oil Expansion Tank
Economizer
Oil Gas Separator
Oil header
Chimney
......
Features of Oil Boiler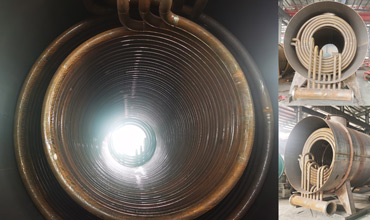 Compace coil tube structure
Horizontal chamber combustion three coil structure, its body is composed of outer coil, middle coil, inner coil and rear coil.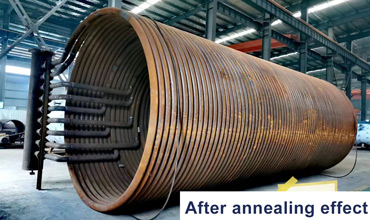 Wet back sturcture
Unique design for heating surface in end of boiler, somke chamber wet back sturcuture, make lower heat loss, improve thermal efficiency 2%-3%.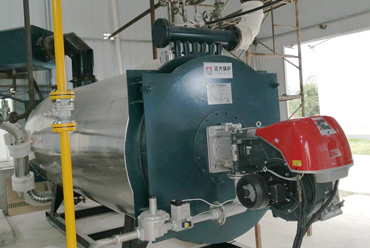 External oil tank
The design of the external oil collecting tank prevents the slow flow of grease carbonization and avoids accidents.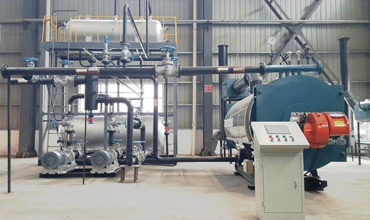 100% safety runing & best insulation
Double layer 12cm aluminum silicate insulation. Sealed tightly to avoid air leaks. Over oil temperature/over smoke temperature/low flow alarm.
Send Inquiry

Send the details of "what you need", we will give a feedback within 2 hours.