Introduction

Gas/lpg/diesel fired thermal oil boiler
YY(Q)W series thermal oil boiler adopts a horizontal chamber-fired three-coil structure, and the body is composed of an outer coil, a middle coil and an inner coil.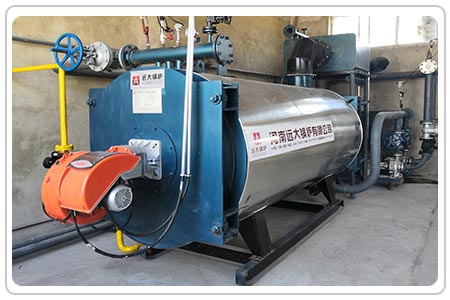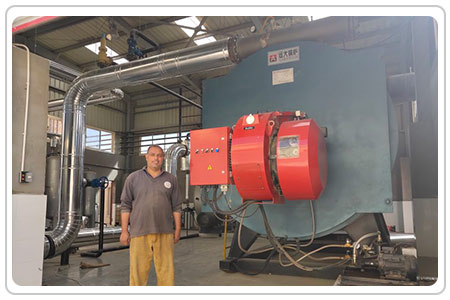 Core advantages:
1. Adopting three-return wet-back structure, it fundamentally solves the problem that the back-burning chamber temperature is too high and the rear smoke box is burnt out;
2. The heated surface adopts a close-packed disc tube, and the heated surface is arranged sufficiently to reduce the heat load on the surface of the tube, ensure safer operation;
3. With multiple security protection functions: super oil temperature alarm, super smoke temperature alarm, low flow alarm, liquid level protection, flameout protection, system chain;
4. The boiler adopts large front and rear door design, which is convenient for overhaul;
5. The air preheater or waste heat boiler can be installed at the tail of the boiler to improve the efficiency of thermal energy utilization.
Uses: Oil Chemical Factory/ chemical fiber industry / wood processing / paper / building materials / food industry /Heating Oil Tank.
Technical Parameter

YYQ(W) Series Thermal Oil Boiler Technical Parameter
Model
Rated power(KW)
Rated pressure (Mpa)
Thermal oil temperature(℃)
Thermal efficiency(%)
Fuel comsumption
max transportation weigh(t)
light diesel oil(kg/h)
natural gas(Nm³/h)
YY(Q)W-700Y(Q)
700
0.8/1.0
250-320
>96
61.3
73.6
3
YY(Q)W-1400Y(Q)
1400
0.8/1.0
250-320
>96
122.6
147.1
4
YY(Q)W-3000Y(Q)
3000
0.8/1.0
250-320
>96
249.2
296.4
10
YY(Q)W-3500Y(Q)
3500
0.8/1.0
250-320
>96
305.6
366.8
10.2
YY(Q)W-4200Y(Q)
4200
0.8/1.0
250-320
>96
367.5
436.6
16.5
YY(Q)W-5600Y(Q)
5600
0.8/1.0
250-320
>96
489.6
586.8
23.6
YY(Q)W-7000Y(Q)
7000
0.8/1.0
250-320
>96
612.3
726.9
28
Note: Parameter is for reference only, if any changes should follow the factory technical data.
Our Supply Equipment List

Boiler Body
Burner
Control Cabinet
Feed Oil Pumps
Circulating Oil Pumps
Oil Storage Tank
Oil Expansion Tank
Economizer
Oil Gas Separator
Oil header
Chimney
......
Technical Design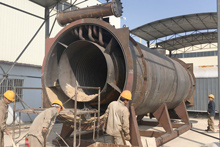 Compace coil tube structure
Horizontal chamber combustion three coil structure, its body is composed of outer coil, middle coil, inner coil and rear coil.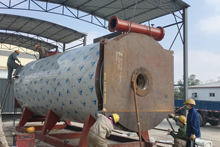 Wet back sturcture
Unique design for heating surface in end of boiler, somke chamber wet back sturcuture, make lower heat loss, improve thermal efficiency 2%-3%.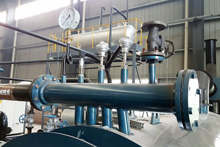 External oil tank
The design of the external oil collecting tank prevents the slow flow of grease carbonization and avoids accidents.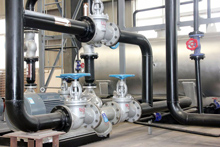 100% safety runing & best insulation
Double layer 12cm aluminum silicate insulation. Sealed tightly to avoid air leaks. Over oil temperature/over smoke temperature/low flow alarm.
Product Features

Intelligient & Fully Automatic
Offer world famous brand burner Weishaput/baltur/riello/hofat/Oilon, etc. Adopt mechanical-electrical integration control equipment and PLC touch screen electric control cabinet.
Energy-saving Efficient Gas/Oil Boiler
Thermal efficiency up to 99%, equipped with erengy-saving device Economizer, Condenser, Steam generator, Exhaust gas boiler. Fully absorb heat of flue gas and transfer to useful energy.
Steady Running & Easy Operation
Over oil temp/over steam temp alarm/low flow alarm, Compact coil tubes sturcture, heating oil efficiently. Sufficient arrangement, reducing thermal load of tubes surface to ensure safety.
Safety & 25+Years Lifespan
Double safety valve, double level gauges, double pressure gauge design: backup guarantee, safe and reliable; Smoke chamber ultrasonic testing, overpressure 40-50% water pressure test,ensure the boiler quality.
Send Inquiry

Send the details of "what you need", we will give a feedback within 2 hours.