Introduction

Medical Incinerator Animals Waste Incinerator 20kg-1000kg
1. YDF series Incinerator is environmentally friendly equipment. Incinerators adopt high temperature heating technology. Harmful substances in waste are pyrolyzed at high temperatures and destroyed.
2. It is suitable for the harmless treatment of waste gas, waste liquid, solid waste fuel, medical waste, domestic waste, and animal carcasses.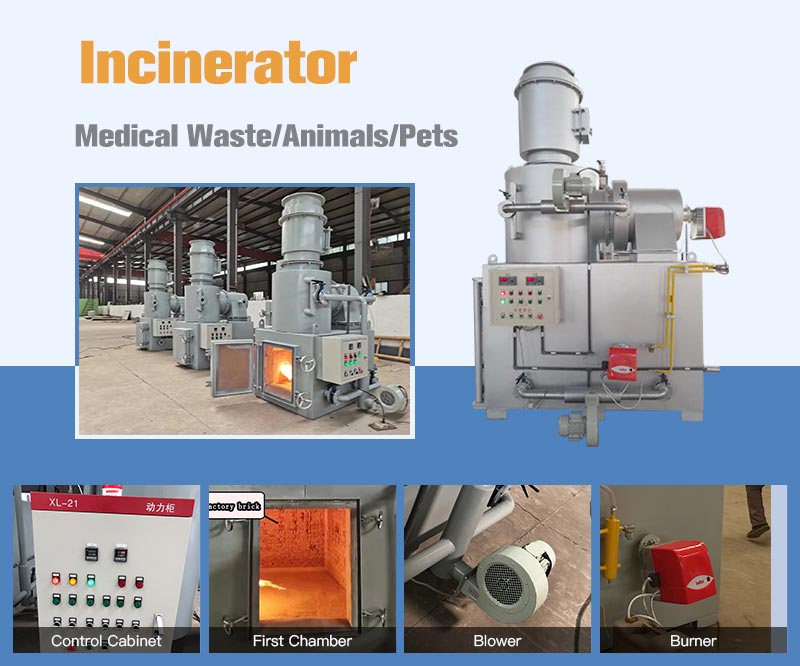 LDF series incinerator Advantages
Our incinerator is provided with the currently most advanced incineration way, i.e., primary pyrolysis gasification + co-firing of surrounding wind +secondary incineration +burnout treatment.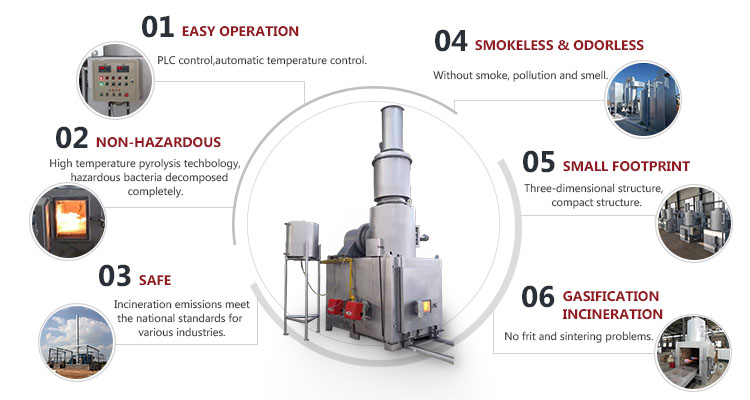 1) The incinerator temperature reaches above the 1200°C continuously to ensure smokeless and tasteless and discharge up to standard.
2) Gasified incineration is used for burning syringe, paper waste, bandage, absorbent cotton and other medical wastes.
3) Gasified incineration, mixed incineration and burnout treatment ensures low emission standard of dust (lower than International standard).
4) Totally enclosed operation is suitable for treating infectious waste to avoid secondary pollution.
Different Models Appearance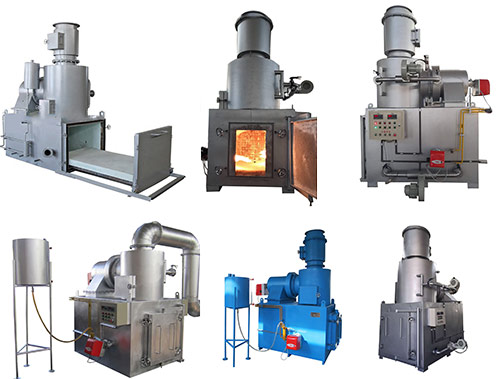 Equipment List

Inncinerator Body
Burner
Induced/Forced fan
Temperature Controller
Combustion chamber
Valves & parts
Cyclone
Distribution Cabinet
Pipes & flue
Bag filter
Chimney
......
Incinerators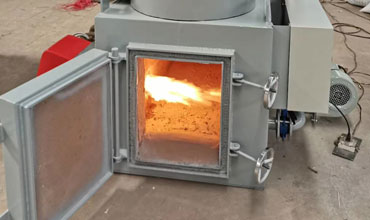 Medical waste incinerator
Disposal 100kg-1000kg per hr. Totally enclosed operation. Avoid secondary pollution. Small occupy area. Quick Treatment.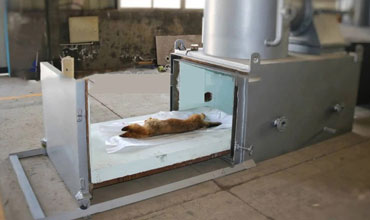 Pets/animals incinerator
Disposal 100kg-2000kg per hr. Totally enclosed operation. Avoid secondary pollution. Small occupy area. Quick Treatment.
How Incinerator works

1. Primary combustion chamber
It is Primary pyrolysis gasifying, Organic matters in the waste would be decomposed into combustible gas in pyrolysis gasifying method.
2. Second combustion chamber
The temperature of secondary combustion chamber should be controlled above 850℃, and the residency time more than 2s.
3. Mixture of combustion chamber
Turbulent combustion would remove black smoke and peculiar smell thoroughly. Dioxin and other toxic and harmful objects would be inhibited to produce from the source.
4. Smoke purification chamber
There is an gas absorbtion chamber, it can absorb the gas again.
5. Chimney
It can cool down the tempreture of waste gas.
Send Inquiry

Write your specific requirements, we aim to offer quote with 2hours.