Introduction

Choose good accessories for your boiler:
In order to support boiler running efficiently, we Yuanda offer accessroeis of high-quality china-famous brand, ensure boiler running stably and efficiently.
Importantly, if you use good quality accessories, it will help expand the boiler lifespan. In contrast, choose the low-quality, it will demage your boiler, further maybe you will need pay more for boiler maintenance.
The accessories in boiler system:
We supply PLC control panel, burner, economizer, valves, gauges, indicators, water soften equipment, water tank, oil tank, steam header, induced fan, forced fan, pump, water level sensor, slag remover, coal feeder, coal conveyer, dust colleator, chain grate, grate bars, grate speed adjustor, fire tube, water tube, furnace, boiler building material, etc.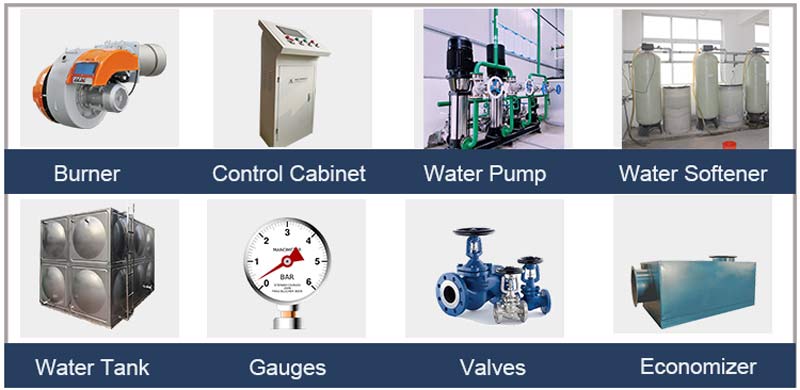 Our Supply Equipment List

Boiler Body
Burner
Control Cabinet
Feed Water Pumps
Circulating Water Pumps
Water Tank
Water Treatment Equipment
Economizer
Induced Fan
Steam header
Chimney
......
Global Sales & Service

Experienced Global Service 10+Years
We have sold to 88countries all over the world till now, have more than 10Years exporting boiler experience. Our manufacturing base in Xihua county, henan province, the center part of china.
Fcous On Boiler Producing 60+ Years
More than 60Years experience in boiler design, manufacturing, install service, China A grade boiler manufacturing license, Quality certidied by ISO CE SGS GB standard, good quality for longtime running.
Global Service Team For Boiler
Our Engineer have arrived more than 50Countries for boiler installation, guiding, commissioning and training operators, that make our boiler work perfect during using life, nice after-sale service.
Send Inquiry

Write your specific requirements, we aim to offer quote with 2hours.