Introduction
>>> DZL Automatic Coal fired Boiler
1. DZL boiler, "D" means single drum, "Z" means drum and chain grate are in parallel, "L" means chain grate.
2. It's automatic horizontal fire-tube water-tube boiler, wing-shape flue and flue gas three pass design, higher thermal efficiency than traditional manual coal boiler.
3. Boiler could burn coal, charcoal, biomass, wood, husk, coconuts, palm shells, bagasse...

Remark: ① Feed water ② Water treatment ③ Water tank ④ Deaerator ⑤ Boiler Body ⑥ Coal feeder ⑦ Blower ⑧ Economier ⑨ Bag filter ⑩ Chimney ⑫ Induced fan
>>> Why choose a automatic coal boiler
1. DZL coal boiler use chain grate work fully automatically, you can control burning condition. It saves the labor cost.
2. Eco-friendly and energy saving boiler design by china famous boiler expert Li Zhiguang professor and director of famous institute.
3. Our boilers have served for 5000+ enterprises in 90 countrires, widely used for all indurties processing and heating industry.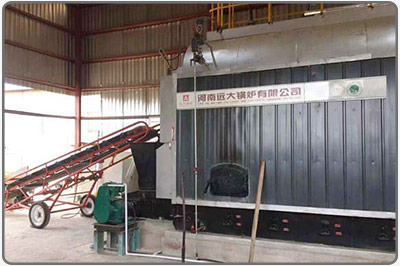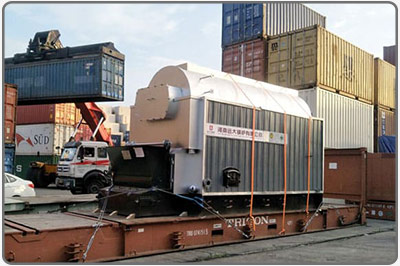 Technical Parameter
DZ Series Steam Boiler Technical Parameter Table
Model
Rated capacity(t/h)
Rated pressure (Mpa)
Rated steam temperature(℃)
feed temperature(℃)
Thermal efficiency(%)
Boiler water volume(m³)
Exhaust temperation(℃)
Fuel comsumption(Kg/h)
max transportation weigh(t)
DZH1
1
1.0/1.25/1.6
184/194/204
20/104
>82
3.15
127.25
192.32
9
DZL1
1
1.0/1.25/1.6
184/194/204
20/104
>82
3.15
113.34
190.42
13.5
DZH2
2
1.0/1.25/1.6
184/194/204
20/104
>82
4.75
126.41
386.47
15
DZL2
2
1.0/1.25/1.6
184/194/204
20/104
>82
4.77
106.34
393.77
22
DZH4
4
1.0/1.25/1.6
184/194/204
20/104
>82
7.7
137.25
782.29
18.5
DZL4
4
1.0/1.25/1.6/2.5
184/194/204/226
20/104
>82
8.2
124.49
756.89
27.6
DZH6
6
1.0/1.25/1.6/2.5
184/194/204/226
20/104
>82
7.4
146.83
1169.57
25
DZL6
6
1.0/1.25/1.6/2.5
184/194/204/226
20/104
>82
8.1
137.29
1148.68
35
DZL8
8
1.0/1.25/1.6/2.5
184/194/204/226
20/104
>82
9.6
141.06
1602.44
38
Note: Parameter is for reference only, if any changes should follow the factory technical data.
Our Supply Equipment List
Coal Feeder
Grate Speed Reducer
Slag Remover
Water Treatment Device
Water Pumps
Water Tank
Deaerator
Economizer
Forced/Induced Fan
Smoke Clean Equipment
Chimney
......
Advantage of DZL Boiler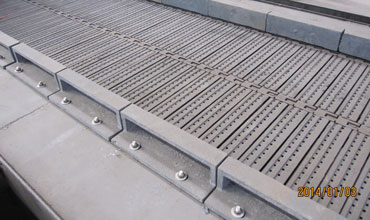 Chain grate/Reciprocating grate
Auto-feeding type burning system, avoid problem of air leakage, fuel leakage and uneven ventilation. Easier operation compared to traditional grate.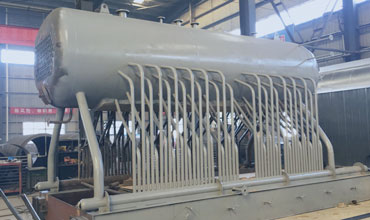 Fire tubes & Wing shape structure
Strengthening heat transfer, eliminating welding stress, enhance heat transfer bility, reduce heat stress of pipeline seam, prevent pipeline cracking.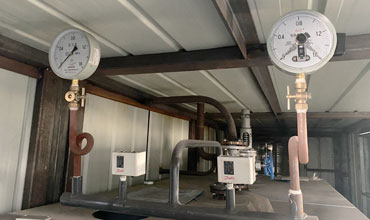 Security guaranteed & Automation
With a set of alarm,protection and security guaranteed, 100% safety. Control cabinet use siemens elements, trustable quality & control strictly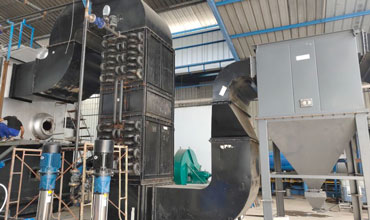 Economizer & Dust collector device
Reuse waste heat in exhaust gas, energy saving devide (economizer); Remove the dust and ash, protect envrionment and reduce pollution
FAQ of Coal Boiler
Question: Can it burn coal and wood waste together?
Answer: Yes, it can burn coal, wood waste. Besides, burn biomass, bagasse, palm shells, coconuts, husk...
Question: Do you have DZG boiler?
Answer: Yes, "DZG" mean fix grate boiler, the biggest difference with "DZL" is combustion grate device. DZL is automatic chain grate boiler, DZG is manual type fixed grate boiler. If you interest more, send message on website.
Question: What's accessories do you supply ?
Answer: Including control panel, coal feeder, chain grate, grate reducer, water treatment device, water pumps, dust collector, economizer, chimney, water level gauges & pressure gauges.
Question: How we install the boiler after buy it?
Answer: Sir, we supply whole life service for boiler, before-sale service & on-sale service & after-sale service. We have professional service team for installation and boiler commissioning and training workers.
Contact Us
Please write your words to get in touch with our team,We will keep your information confidential.