Introduction
Vertical coal/wood/biomass fired boiler
1. 200kg-2000kg vertical type boiler, adopt fire tube/water tube structure, coal/wood/biomass fuel/solid material burning boiler. Heating capacity in 100kw-1400kw or 200kg-2000kg.
2. Vertical manual feeding coal/wood fired boiler, the boiler body mainly made of U-circle, boiler drum, shell cover, furnace, horizontal water tube, vertical tube, convection tubes, pressure parts. Set manhole on shell cover, convenient for boiler maintenance and clean.

Technical Parameter
Vertical Coal Boiler Technical Parameter Table
Model
Rated evaporation(T/H)
Rated pressure (Mpa)
Saturation temperature(℃)
Thermal efficiency(%)
Water capacity(L)
Fuel consumption(Kg/H)
power supply(V)
LSG0.08-0.7
0.08
0.7
170
≥90
29.5
12
220
LSG0.12-0.7
0.12
0.7
170
≥90
29.5
17
220
LSG0.16-0.7
0.16
0.7
170
≥90
29.5
25
220
LSG0.23-0.7
0.23
0.7
170
≥90
29.5
33
220
LSG0.30-0.7
0.3
0.7
170
≥90
47.5
50
220
LSG0.50-0.7
0.5
0.7
170
≥90
29.5
75
220
Note: Parameter is for reference only, if any changes should follow the factory technical data.
Our Supply Equipment List
Boiler Body
Burner
Control Cabinet
Feed Water Pumps
Circulating Water Pumps
Water Tank
Water Treatment Equipment
Economizer
Induced Fan
Steam header
Chimney
......
Design Features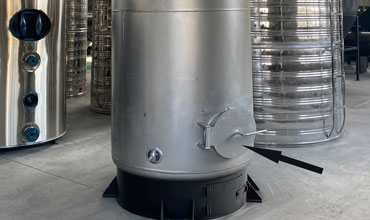 Hand-Feeding Coal Boiler
LSG series vertical type boiler, help saving occupy area. Need Hand feeding coal/wood into combustion, easy installation & operation
Inner Water Tube Structure
Water tube coal boiler, larger heating area, make water temperature heat up quickly. Also it has low maintenance rate, low running cost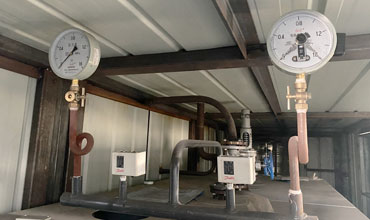 100% Safety & Easy Control
We make the ultrasonic flaw detection and water pressure test for body body and pressurized part. Boiler equipped with double gauges & safety valves
Longer Using Lifespan
Equipped with water softener, could remove Mg+, Ca+ in water and improve water quality. Prevent hurt to boiler tube, entend the boiler using life time
LSG Boiler Advantages
Advantage: Higher efficiency & Energy-saving
Why: Optimized design CAD furnace/corrugated tubes/wing shape flue/new arch design, enhancing heat transfer efficiency. Equipped with energy saving device such as economizer to absorb heat of exhaust gas, economic & eco-friendly.
Advantage: Automatic feeding coal boiler
Why: Automatic chain belt grate, easier operation, avoid the problem of air leakage/fuel leakage/uneven ventilation. Double-sided air inlet chamber can flexibly adjust the air volume and distribute the air uniformly to ensure full combustion.
Advantage: High Quality & Strong Power
Why: Design steam-water separator, reduce steam humidity and ensure steam quality. Boiler design 5-10% overload capacity, satisfy customers' demand for factory using. Enough steam output per hour.
Advantage: Safety & 25+Years Lifespan
Why: We already manufacturing boiler for 60+Years, mature skilled technician team, advanced production processes, strict quality inspection control, CE & ISO certified quality, global service for boiler install & commissioning & training operator.
Contact Us
Please write your words to get in touch with our team,We will keep your information confidential.