Introduction
1. Small Vertical Pellets Boiler
Capacity: 80kw-700kw 100kg-1000kg
Small pellets steam generator boiler, it works automatically. It's a small inspection-free boiler that uses biomass-pellet/wood-pellet burning, heating water, output high-temp steam or hot water.

2. Heavy Duty Pellets Boiler
Capacity: 0.5ton-10ton
Wood biomass burner boiler, is kind of fire tube boiler, use biomass burner device burning biomass supplying heating source, high-temperature flue gas into fire tube boiler, three pass structure for heating water efficiently.
Introduce biomass burner: Biomass burner is a type of biomass semi-gasification automatic control type burner, which uses wood chips, wood powder, sawdust and other organic biomass as fuel. Through the automatic feeding device, the biomass particles are sent into the combustion chamber for direct combustion, and the burned heat can be directly used in boilers, spraying, die-casting, clothing, hotels, heat treatment and other heating equipment.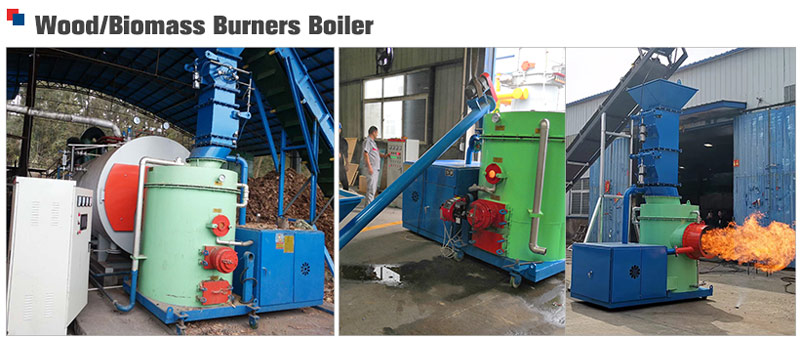 Technical Parameter
Biomass/Wood Pellets Boiler Technical Parameter Table
Model
Rated evaporation(T/H)
Rated pressure (Mpa)
Saturation temperature(℃)
Thermal efficiency(%)
Fuel consumption(Kg/H)
LSG0.08-0.7
0.08
0.7
170
≥90
12
LSG0.12-0.7
0.12
0.7
170
≥90
17
LSG0.16-0.7
0.16
0.7
170
≥90
25
LSG0.23-0.7
0.23
0.7
170
≥90
33
LSG0.30-0.7
0.3
0.7
170
≥90
50
LSG0.50-0.7
0.5
0.7
170
≥90
75
DZH1
1
1.0/1.25/1.6
184/194/204
>82
192.32
DZL1
1
1.0/1.25/1.6
184/194/204
>82
190.42
DZH2
2
1.0/1.25/1.6
184/194/204
>82
386.47
DZL2
2
1.0/1.25/1.6
184/194/204
>82
393.77
DZH4
4
1.0/1.25/1.6
184/194/204
>82
782.29
DZL4
4
1.0/1.25/1.6/2.5
184/194/204/226
>82
756.89
DZH6
6
1.0/1.25/1.6/2.5
184/194/204/226
>82
1169.57
DZL6
6
1.0/1.25/1.6/2.5
184/194/204/226
>82
1148.68
DZL8
8
1.0/1.25/1.6/2.5
184/194/204/226
>82
1602.44
Note: Parameter is for reference only, if any changes should follow the factory technical data.
Our Supply Equipment List
Biomass Burner
Belt Conveyor
Fire Tube Boiler
Dust Collector
Waste Heat Recovery Device
Water Treatment Device
Pumps & Valves
Economizer
Induced Fan
Smoke Clean Equipment
Chimney
......
FAQ of wood pellets boiler
Question: Do you have wood pellets steam generator ?
Answer: Sometimes, peoples call steam boiler also call steam generator. If you need wood pellets steam generator, its a small capacity steam machine, we will recommend the small vertical one.
Question: what's the design of wood/biomass pellets boiler?
Answer: Wood/biomass pellets burner boiler, consist of burner and fire tube boiler furnace, also use energysaving device (economizer), help saving cost.
Question: how can i get the price?
Answer: dear, pls send required boiler capacity, boiler fuel, other requirements in our website. Then you will receive the price within 24hours.
Send Inquiry
Send the details of "what you need", we will give a feedback within 2 hours.