Introduction
Wood/Biomass/Coal fired thermal oil boiler | Chain grate thermal oil boiler
Horizontal type thermal oil heater boiler, it has a square coil tube horizontal structure, adopt chain grate mechanical feeding, equipped with a drum and induced draft fan for mechanical ventilation, and equipped with a slag machine to achieve mechanical slag.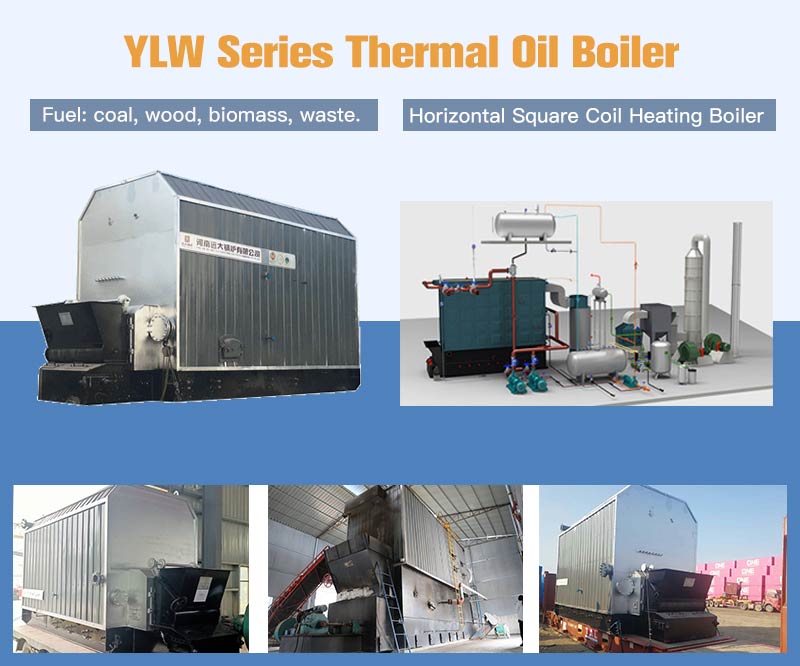 Energy efficient
1. Close packed disc tube heating surface, heating surface layout adequacy, multi-backhaul heat exchanger.
2. Furnace size match with burning flame, radiation heat transfer efficiency.
3. Positive pressure combustin, so that combustion efficiency is  greatly improved.
4. Boiler quality insulation materials and special construction technology, less heat loss, ther exhaust gas temperature is low, the high thermal efficiency of ther boiler.
5. By fully rational surface layout, boiler warming fast start.
Safe and reliable
1. Close-packed disc tube heating surface heating surface arrangement sufficient to reduce the tube sheet heat load, conducting oil safer to use.
2. The boiler operation monitor remote and nearly complete automatic control and monitoring instrumentation, safe, reliable, easy to operate
Easy to install
Boiler full assembled, compact structure, small footprint, is extremely easy to install and flexible, as long as the boiler is located based on.
Applications
Fuel applicable: light diesel oil, heavy oil, residual oil, natural gas, liquefied petroleum gas, city gas,
Application industry: Chemical, textile, printing and dyeing, food, paper, rubber, wood, pharmaceuticals, asphalt and other industries.
Technical Parameter
YLW Series Thermal Oil Boiler Technical Parameter
Model
Rated power(KW)
Rated pressure (Mpa)
Thermal oil temperature(℃)
Thermal efficiency(%)
Thermal oil circulation flow(m³/h)
Fuel comsumption(Kg/h)
max transportation weigh(t)
YLW-700
0.7
0.8/1.0
250-320
>83
45.7
187
16.9
YLW-1400
1.4
0.8/1.0
250-320
>83
87.4
373
22
YLW-2400
2.4
0.8/1.0
250-320
>83
149.8
621.3
28.6
YLW-2900
2.9
0.8/1.0
250-320
>83
155
756
24.2
YLW-4200
4.2
0.8/1.0
250-320
>83
225
989.3
30
YLW-5600
5.6
0.8/1.0
250-320
>83
336
1196
33.6
YLW-7000
7
0.8/1.0
250-320
>83
383.5
1657.4
18.2
YLW-8400
8.4
0.8/1.0
250-320
>83
536.2
1926.2
24.3
YLW-10500
10.5
0.8/1.0
250-320
>83
686.6
2442.6
27.5
YLW-14000
14
0.8/1.0
250-320
>83
869.1
3230
31
Note: Parameter is for reference only, if any changes should follow the factory technical data.
Our Supply Equipment List
Boiler Body
Control Cabinet
ID/Forced Fan
Dust Collector
Circulating Oil Pumps
Oil Storage Tank
Oil Expansion Tank
Economizer
Oil Gas Separator
Oil header
Chimney
......
Technical Design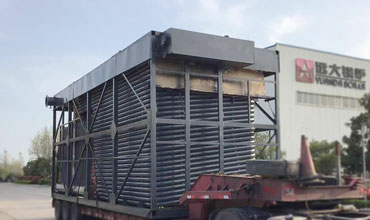 Multi-loop coil design
Adopts square coil horizontal sturcture, chain grate automatic fuel feeding combustion device, increase heating surface and easier to operate.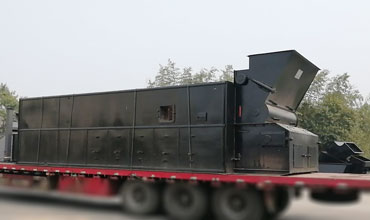 Unique warehouse and auto feeding
The big speed bin design could control fuel transmit mass automatically according to the thermal energy, isolate flame and flue to prevent tempering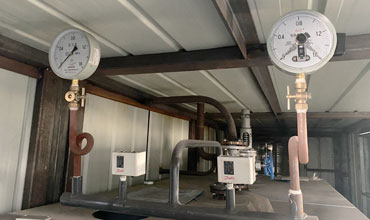 Security guaranteed & Automation
With a set of alarm,protection and security guaranteed, 100% safety. Control cabinet use siemens elements, trustable quality & control strictly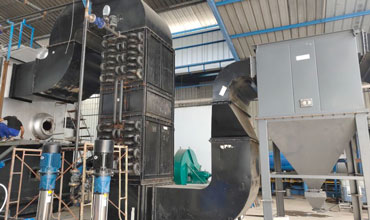 Economizer & Dust collector device
Reuse waste heat in exhaust gas, energy saving devide (economizer); Remove the dust and ash, protect envrionment and reduce pollution
Send Inquiry
Send the details of "what you need", we will give a feedback within 2 hours.